Map and Directions To Ginnys Wig Salon in Gastonia, NC, only minutes from Charlotte NC.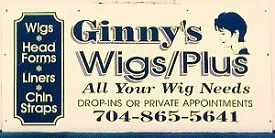 Experienced, professional hairdressers

Private and relaxing salon atmosphere

Retail location and online browsing

Over 800 high quality wigs in stock

Affordable prices and services

Accessories and wig products
Ginny's Wig Salon in Gastonia, NC, offers retail and online wig browsing services. Ginny has worked in the hair industry as a hairdresser and salon owner for over 50 years.
After many years of retail experience, and working with wigs from various manufacturers, Ginny has over 1,100 wigs in stock. The workmanship, design, style and quality of her wig selection is exceptional. The prices are reasonable, and wigs can be viewed online and purchased at Ginny's Wig Salon. Ginny's Wig salon offers a private and comfortable atmosphere for those who have the opportunity to visit. Ginny also has a wonderful selection of accessories available for purchase in her salon.
There are many online wig retailers to choose from, but often they do not have the professional experience to help the client choose the wig that is best suited for them. Ginny will meet with a client, and with additional information of lifestyle and preference, the right wig can be chosen to best suit her clients needs. What makes Ginny's Wig Salon outstanding is Ginny.
If you are interested in any of the wigs at Ginny's Wigs, please contact Ginny during business hours by phone or at: ginnyswigs@yahoo.com, or Janice (anytime) at: angelyn8@aol.com. Include some information about your lifestyle, preferences of color, length and texture. Ginny's Wigs is located 610 1/2 South Chestnut St, Gastonia, NC. 28054 if you would like to stop in and visit!. Find us on Facebook and Instagram: Ginny's Wigs. Janice is available for questions on Facebook and will repsond ASAP.